Quality

Sterling Silver is generally my metal of choice with its forgiving nature and willingness to be coaxed into many and various forms; seldom escaping without some adornment of either yellow or rose gold.
All of my work carries my maker's mark as well as the British Hallmarks, struck at The London Assay Office. Sometimes the marks are an obvious feature.
Work Process
When designing and making my work I am mindful that I would wish for it to be worn or used to enhance day to day life, whether that life is 'on show' or not. Hoping, too, that the beauty and weight of the precious materials will be evident and as important as the hand making process that produces a certain tactility that once felt is never forgotten. In time, life itself will make its marks and continue 'the story' long after the piece has left my workshop!
Silversmithing techniques cross-pollinate with a sensitive approach to jewellery making to produce what I hope is a substantial yet feminine collection of work. I am inspired by both the natural and Ancient Worlds, but more often than not the process of making one piece will often suggest the next.
Even the serendipity of an accidental hammer mark, the slip of a file or a random scattering of pearls or gemstones will sometimes open an unexpected and unplanned creative door.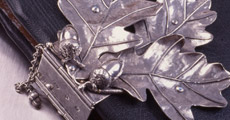 I have often enjoyed working in collaboration with other artists, combining our talents, and sometimes pushing ourselves beyond our comfort zones, to yield some portfolio worthy work.
I very much value a clients input and will often reflect on our initial conversation whilst undertaking a commission, hopeful that our unified ideas contribute to the creative process and ultimately a bonding with the piece once received.